In the Wicklow Mountains, just south of Dublin, lies a site significant to the development of Christianity during the Golden Age of Monasticism. The original monastic settlement at Glendalough was found by St. Kevin who was born in 498. This makes him approximately a contemporary of St. Brigid. Brigid was probably born in 451 and died in 525. They were both born in the province of Leinster. One can imagine this man, who turned his back on his royal heritage, finding his way because of the influence of St. Patrick and his followers, as Brigid did.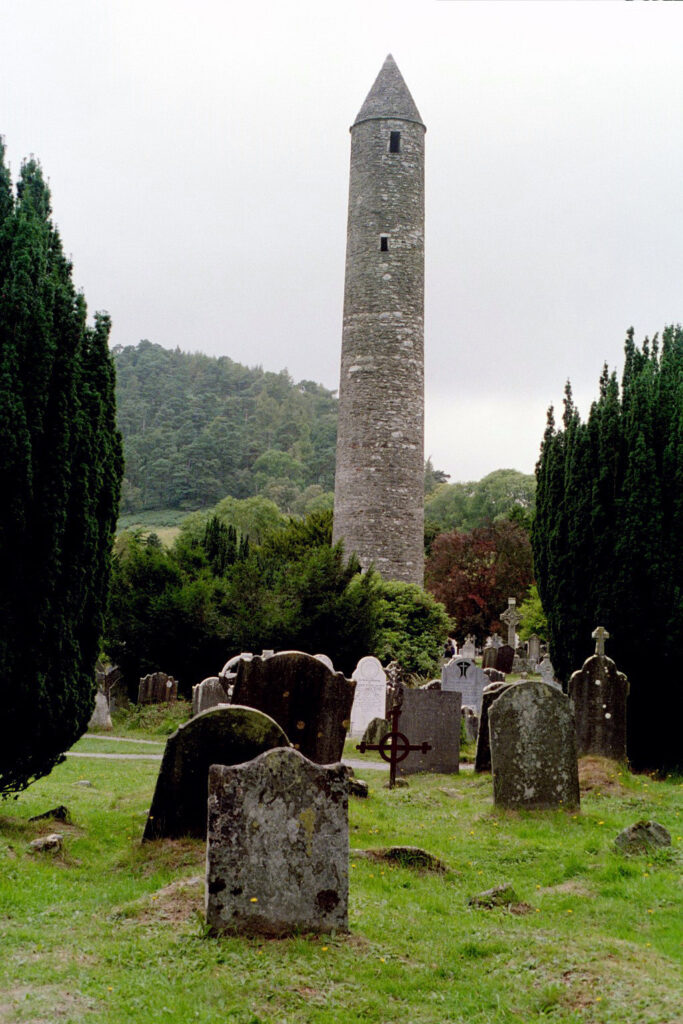 The historical monastic part of Glendalough is referred to as the Monastic City. It's an area of natural beauty surrounded by softly mounded hills (which are the Wicklow Mountains.) The ruins here are very ancient, yet they are not from St. Kevin's era. As with Brigid's monastery, any original buildings would have been mostly made of wood and could not survive. What is there, the churches, round tower, church, and other ruins are from a later time period dating from the eighth to twelfth centuries. This is still St. Kevin's establishment, however. It grew from his hermitage and flourished for at least six hundred years, despite the fact that it was regularly raided by the Vikings.
There are many round towers throughout Ireland, in various states of ruin. This one is the best example. The conical roof was replaced in the nineteenth century so that it looks as it would have when the monks lived here. Round towers are fascinating. They mark the spot in the wilderness for pilgrims and visitors who can see it miles away. They probably held bells like church steeples. They also may have been built to protect the monks and the monastery's valuables from attack.
Glendalough means Valley of Two Lakes. Very descriptive. The lakes are where St. Kevin spent most of his time. From my book, The Roots of Irish Wisdom:
Once when he [St. Kevin] was praying with arms outstretched, a blackbird built a nest in the palm of his hand. Not wanting to disturb the bird's eggs, he remained in that position until the baby birds hatched and flew away. An otter brought him fish daily and even saved Kevin's Psalter when he dropped it into one of the lakes.

The Roots of Irish Wisdom, page 55.
After seven years the growing number of followers who made their way to Kevin's hideaway–perhaps a hollow tree or a cave–necessitated the building of a community. Kevin returned to solitary life only for a short interval after that, choosing instead to teach and direct his disciples…

Legend says that Kevin lived to be 120 years old. It is believed that the ruins of his stone cell can still be seen along with the site of his cave, which is not easily reached, lying at the edge of a mountain overlooking the upper lake.

The Roots of Irish Wisdom, page 55.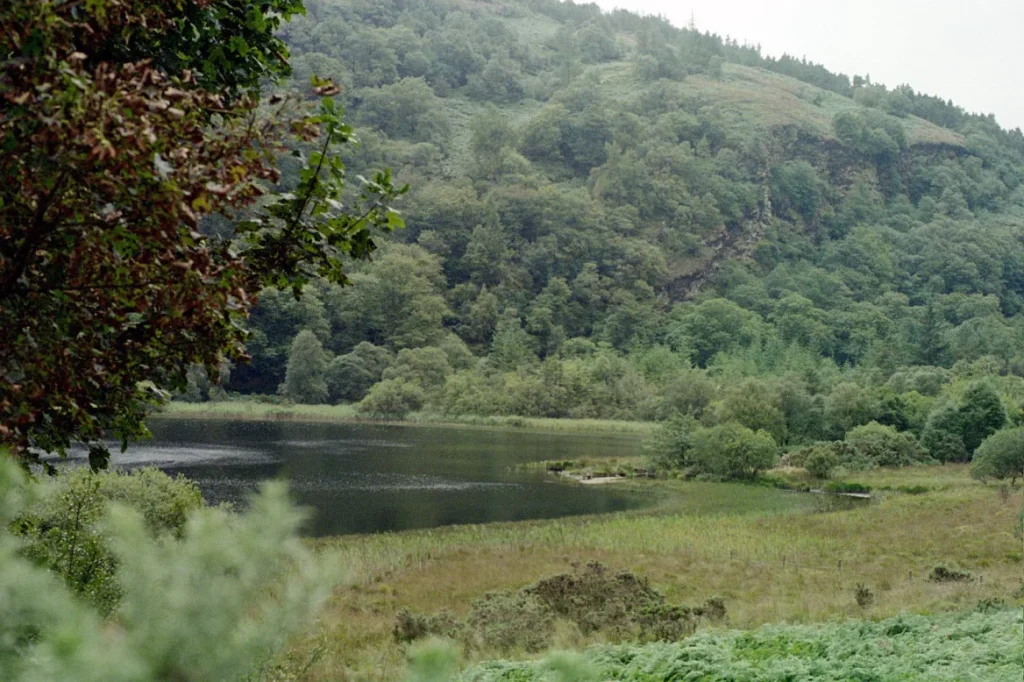 The area leading to the site has been "improved" to allow easier access to the site, I suppose, as it is a major tourist attraction. My friend Jamie, who allowed me to use her photographs, has discussed that on her blog. Here is a link to her blog post where she describes her disappointment with the modern look of the entrance and the removal of a gate after visiting nine years earlier.
However, it is still a place of incredible natural beauty. Just look at this. You can see the round tower and the church, referred to as St. Kevin's Kitchen, in the distance.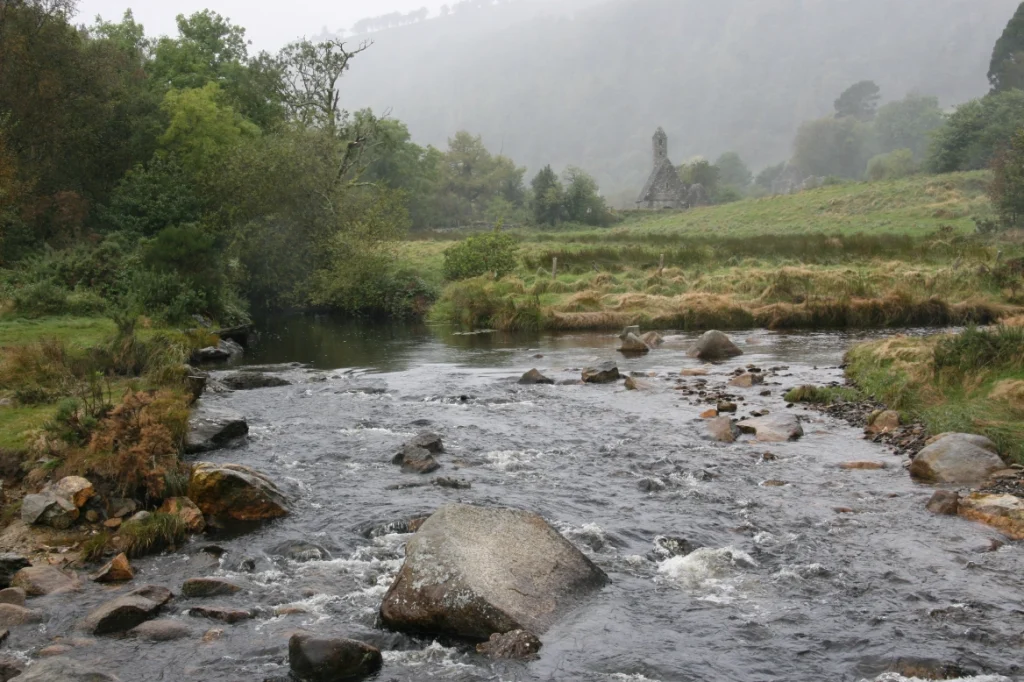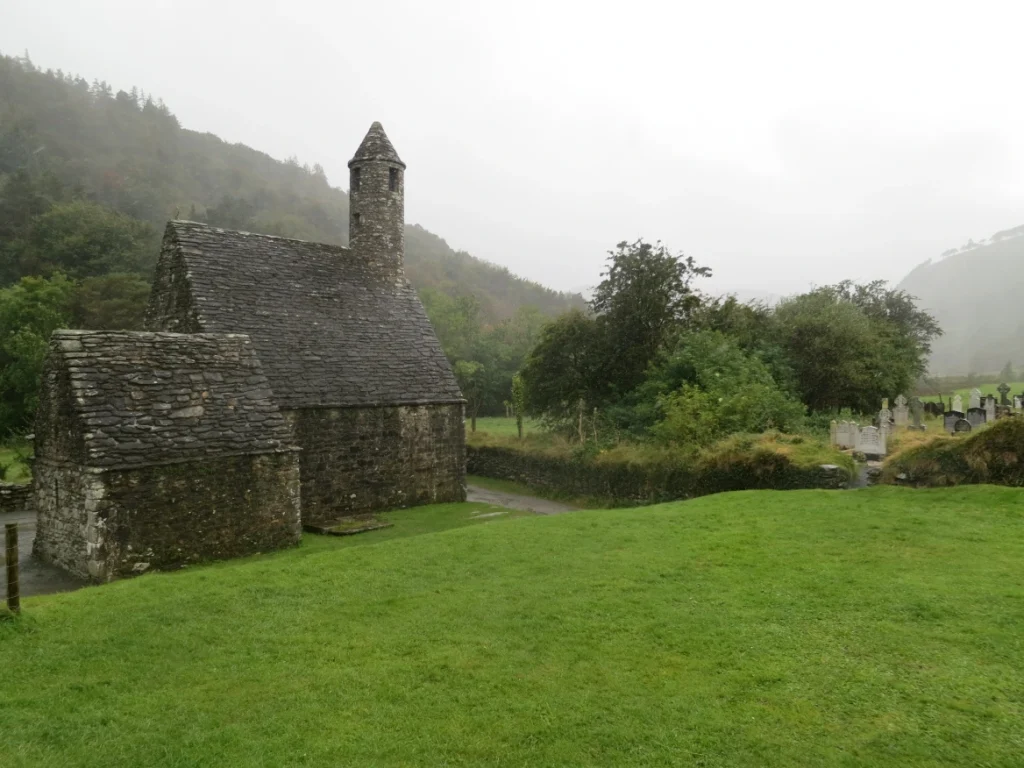 Why did I use Jamie's photos? Because I haven't been there! You and I will see it together if you're coming on the tour. See the photo to the right of this post for more info on how to reserve your spot. I'm excited to see this, especially since I wrote about it in The Roots of Irish Wisdom and it's a significant historical Christian site that Brigid probably knew about and may have even visited.