Recently on Twitter I saw this picture: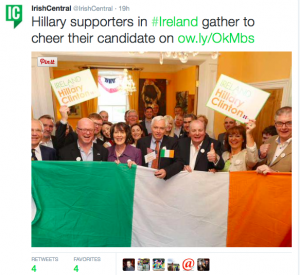 American Politics Abroad
And it immediately reminded me how many people we met while in Ireland who asked about how we felt about the Clintons or about Obama or Bush. They wanted to know how Americans felt, and I quite honestly said that I didn't feel right speaking for all Americans. Perhaps it's the size difference in countries or how they view politics. I just didn't understand it. So, when I saw this, I posted a response saying how I didn't understand why other countries jump into our politics.
Maybe I should have worded it differently. Maybe it sounded snooty. I meant it literally. I didn't say this but looking at that tweet I wondered… "their" candidate? As I said, I don't get it. And for me, I dread the upcoming election. I'm tired of politicians and their games. Why would you want to get into this when you didn't have to? (I know lots of people are politically active. No criticism intended.)
And then I got this:

Woo. I tried to keep the conversation going, saying, no, I am puzzled. But David, it seemed, was finished. I'd been judged.
To Whom Does a Country Belong?
To Whom Does a Country Belong?
Click To Tweet
And of course, this got me thinking some more. I have never claimed to be anything but American. We know because of a current ethnic denial that the public looks down on this sort of thing, for the most part. I know I'm American. My research has shown my family has been in America long before we were even a country, about 150 years before in one line. Sometimes at book signings people ask me if I'm Irish and I reply that I have Irish roots way back.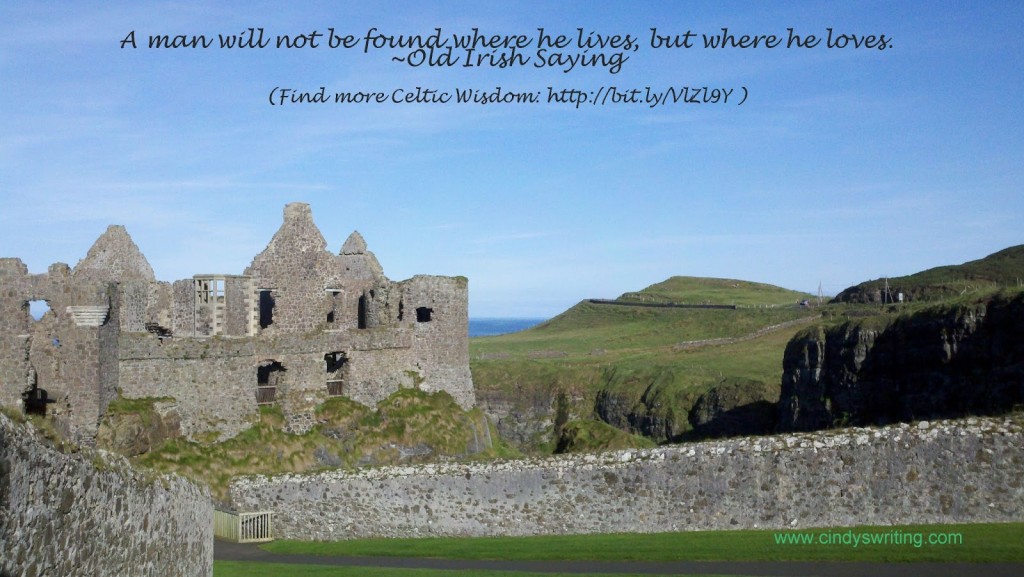 How do you define your ethnic connection? Does it matter? Author Cindy Thomson discusses on her blog.
Click To Tweet
So why write about a country that you personally are not from? Well, if I wrote about Kansas, where I was born, I wouldn't know much about it. I only lived there the first three months of my life. I haven't done the research. But I have researched Ireland because of my genealogy search and just because it interests me, greatly. Is that wrong? I never thought so. I still don't. David on Twitter was just spouting off. I've met plenty of people from Ireland who seem to appreciate my work. My first two Irish books were published by a British publisher. They didn't mind I was American. If you research, you can write about any country in the world, and in fact, by doing so you help enlighten the people in your own country, who will be primarily the ones who read your stuff anyway.
I have a friend who lives in Northern Ireland. Most of his writing is about Americans with Irish roots. He has traced their history here, and he knows a lot about it, more than most Americans know. He is writing often about his kin, those who left Ireland and came here, and I am doing just the opposite when I trace my line from here back there.
America is a Melting Pot That Some Want to Deny

A few months ago I was scolded by a Scottish man for claiming a connection to Scotland (He might have had too much whiskey because his posts consisted of scattered thoughts.) Well, it's a historical fact that at least one of my ancestors was born in Scotland, moved to Ireland, and then on to America. I do have a Scottish connection, whether he liked it or not. (You can search for his comments here on this blog if you're interested. I'm not going to link to it because….well, it was just silly.)
Here is where I think the misunderstanding comes from. The United States is by and large a country of immigrants. And as such, we identify with many other countries. In contrast, those whose families have lived in an area for many generations, as far back as can be remembered, identify themselves as wholly that–Irish, Scottish, French, German or wherever they're from…and some of them have a strong dislike for Americans who seem to want to say they are one of them. They aren't at all, in their minds. I'm all for pride in one's heritage, but I think that's taking it a bit too far.
To be fair these people who pop up on Twitter or Facebook or even this blog are few compared to those who are welcoming, helpful, and interested in the stories from Americans about those who immigrated. I'm thankful for that. It helps lead to understanding and peace, no matter their political preference.
What do you think?