Scroll down for purchase links: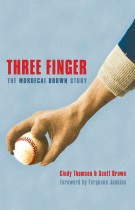 Finalist for the Larry Ritter Book Award (Society for American Baseball Research)
On October 8, 1908, Mordecai Brown clutched a half-dozen notes inside his coat pocket. The message of each was clear: we'll kill you if you pitch and beat the Giants. A black handprint marked each note, the signature of the Italian Mafia.
Mordecai Brown—dubbed "Three Finger" because of a childhood farm injury—was the dominant pitcher for the great Chicago Cubs team of the early twentieth century. Brown's handicap enabled him to throw pitches with an unconventional movement that left batters bewildered—the curve ball that Ty Cobb once called "the most devastating" he had ever faced.
How Brown responded to the Mafia's threats in 1908 mirrored the way he took life in general: with unflappable courage and resolve. Telling his story for the first time, Cindy Thomson and Scott Brown track Mordecai from the Indiana countryside to the coal mines, from semipro ball to the Majors, from the World Series mound back down to the Minors. Along the way they retrieve the lost lore of one of baseball's greatest pitchers and chronicle one man's determination to attain a dream that most believed was unreachable.
"Among the great pleasures of the narrative is the authors' ability to recreate the gritty atmosphere of early baseball. By contrast, today's game seems sedate. Rivalries were intense and local (within the Three I League—Indiana, Illinois, Iowa, for example). Dangers lurked from mobsters, brawling opponents and teammates, and head-hunting pitchers. Umpiring was a high-risk profession."—Steve Golos, Ohioana Quarterly
"An excellent window into a time when sport and society were wildly different from today, and it successfully reminds us of Mordecai Brown's rightful place in baseball's collective memory."—Tim Denevi, Aethlon: The Journal of Sport Literature
"Deadball aficionados, baseball fans in general, and those loving a well written story should read this great book."—Mark Dugo, The Inside Game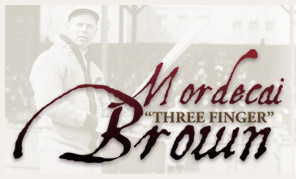 Visit the Mordecai Brown Legacy Foundation Page.
Please note that affiliate links are included on this site. When you shop using these links it earns me a little money and doesn't cost you more. Click on the book image or shop on the other sites below.