My Library Presentation
I was asked to make presentations at four branch libraries in Belmont County, OH. It was so fun to do this because the topic requested was how to write your family's story after you've done the research.
Beyond Facts, Dates, and Sources
What genealogy enthusiast hasn't tried to tell his or her family the genealogy story and been disappointed with the response. Eye rolling, blank stares…
Well, what is needed here is a story! If you are not a writer that could seem daunting, so I've made up a little outline to help. (Click to enlarge picture)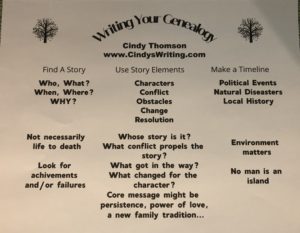 Timelines Are Essential
The main thing I want to point out here, the best way to get started, is to use a historical timeline. There are many online. Once you decide what ancestor you are going to use in your story, look at the times he/she lived in. Some of what happened may not have effected him/her, some may have, and some things certainly will have. Look at local history along with political events and natural disasters such as tornadoes, earthquakes, and floods. Once you see what was happening at the time, a story may surface.
Of course we are always looking at wars: Civil War, WWII… but there are other things that happened: inventions, discoveries, industrial advances, labor strikes, mine disasters, train wrecks, protests, crop failures. Sometimes you will need to look for lesser known events.
For instance, I looked at the period of time in which my maternal grandfather was in the army, 1904-1906. It was not wartime, and yet it was an interesting time in history.  I'll share the story I wrote about him, the one I shared with the library groups.
William Taylor Brown
William Taylor Brown (referred to as Taylor or WT) traveled from his home in the rural, rolling hills of Kentucky to the big city of Lexington to embark on a journey that would ensure he would never again be an isolated country boy unfamiliar with the ways of the world.
Born in 1880, during the time of violent family feuds in Kentucky, Taylor grew up in a family of eleven children. The industrial revolution passed rural Kentucky by. Nearly every family farmed for a living, most raised tobacco. Opportunities were few. Not many children continued their education beyond elementary school because they were needed to work the farm. Taylor had many scars on his body, as noted when at the age of 22, in April of 1904, he enlisted in the United States Army. Those scars may have been the result of farming injuries or perhaps he obtained them from fights. It is not known if his family participated in the feuds taking place all around them. His enlisting officer noted him as having good character.
He was sent to report to the Presidio in San Francisco, California. One can only imagine the train ride across the country. Oklahoma, New Mexico, and Arizona were not yet admitted to the Union. Utah had only become a state eight years earlier. He would have marveled at bison on the plains, cattle drives, dust storms, and mountains much loftier than those he was used to in the east and snowcapped. He may have ridden the rails with folks ill with tuberculous who were bound for Colorado since the trend was to recuperate there at the time.
The Presidio had been a military establishment since it was founded by Spain in 1776. The U.S. Army took residence there beginning in 1848. It was the departure site for troops deploying to the Philippines when Taylor Brown was sent there. President Theodore Roosevelt visited the year before. It was a bustling military base near the city of San Francisco decades before the Golden Gate Bridge was built but 55 years after the Gold Rush ballooned the population.
Taylor Brown shipped off to the Philippines on June 1, 1904. It took 25 days to sail there, yet another adventure for the Kentucky boy. Six years earlier Spain ceded the Philippines to the United States. Not wishing to be ruled by yet another nation, the people rebelled, and war broke out until the insurrection ended in 1902 and a provisional government was set up.
Clashes and guerilla warfare still broke out, however, over the next decade, thus the need for an American military presence and the reason Taylor Brown ended up there for eight months. A law was passed stating the island country would become independent eventually. It's possible Taylor was involved in construction while in the Philippines. (Military history of Pasay Garrison during his stay is available in NARA but I have not yet explored it.)
He returned to San Francisco in March of 1905. His enlistment was for three years so he remained at his station and was there when on April 18, 1906, the great earthquake hit just after 5:00 in the morning.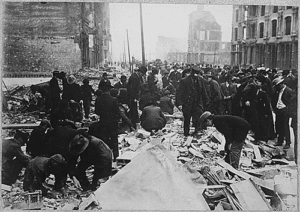 Army troops provided security, fought fires, and provided all kinds of aid including building shelters. Later Taylor Brown would speak of fighting fires after the '06 earthquake to his children.
Almost exactly a year later Taylor was discharged from the army and returned to Kentucky. He worked as a laborer hauling logs and farmed. He stayed single for nine years. (edit: I believe he was married before marrying my grandmother, but it looks like relationships were difficult for him.) Perhaps he was not ready for family life after all he'd seen and done in the army. Or perhaps it was his childhood that influenced his choices. While he loved his children, his marriage was filled with strife and separation followed.
Family lore says that he was a hard man, although he loved his children. He stayed in the hills where he had been raised until his death at age 65. Perhaps the hardships he'd seen while serving affected him. Perhaps his upbringing poorly prepared him for family life. While these are only speculations, understanding his military service may help explain some of his future difficulties. He did raise a child who loved him, my mother. And that may be his greatest legacy after all.
A Story Is Better
Don't you think? I could have said my grandfather was married twice and had served in the army and was in San Fransisco during the Great Earthquake. But for me, those facts only bring questions. With a little thought and a little historical research, you can help your relatives become just as interested in genealogy as you are. Every life has a story…or two.