My One Word
As some of you know, I choose a word for each new year. I've been doing this for many years now, influenced by a book called My One Word by Mike Ashcroft and Rachel Olsen. Over the years my words have included: kindness, focus, peace, listen…
I'm always amazed by the end of the year what the word taught me. It's often not what I thought it was going to be, but sometimes it is! And even more.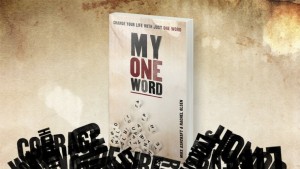 2018
The year had its challenges, as I'm sure it did for everybody. My word was remember. I had a clue what it was going to mean: remember God's promises, remember your blessings. And it sure did mean that. But I have also been observing the great chasm when it comes to memories between two people. My 89-year-old mother's memories have been slipping away at an alarming rate. My 2 1/2-year-old granddaughter's are zooming in the opposite direction. I have pondered that many times. Memories are delicate, fragile, and precious. One of my author friends, Jim Rubart, wrote a novel influenced by the lost memories of his aging father. Look it up if you're curious.
It was a good word. I learned a lot. I will keep it close as I've tried to do with all my past words. No, not out with the old, not completely because I need the past's lessons.
2019
I only started thinking about it last week! Anyone else have the new year creep up on them? Sheesh! A word popped into my head at that point, but I wasn't sure it was the right one. But after reading some and reflecting a lot, I realized it is my word for 2109: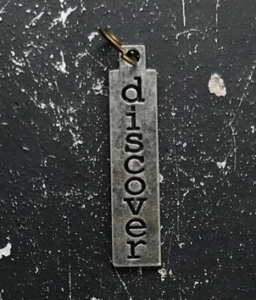 I just ordered two of these little metal tags. One for me and one for a drawing for my newsletter subscribers, which reminds me, I need to get working on that newsletter! Are you signed up? If not, go here.
I expect 2019 to be a year that, if I am intentional about it, will be full of discoveries. About myself, about others, about God.
What's Your Word?
Have you chosen a word? Did you have one in 2018? Let me know what it meant or means to you. Happy New Year, everyone!
P.S. : not published by Tom. I haven't fixed that yet.