My One Word, Changing Your Life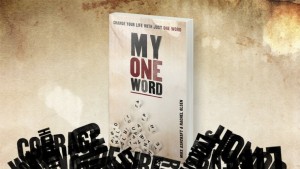 Have you heard of this? Mike Ashcraft and Rachel Olsen wrote a book in which they explain how choosing one word to focus on for an entire year can change your life. The concept involves praying about what God wants to teach you, and that can be both scary and enlightening. Often the word you pick turns out to show you something you hadn't considered before or you end up needing that message more than you could have ever imagined. You can read more about the book and the whole movement on this website.
My Words
In past years my words have been: Listen, Kindness, Peace, and Focus. Each year I have learned something new about myself and about where God is leading me by meditating on these words, seeking them out in the Bible, and praying over them. Sometimes they are a slap to the head. I'll just let you imagine what that could mean! 😉
Often women who choose a word will buy something with that word on it to help encourage them along the way. Usually, yeah, it's jewelry. But also ornaments, coffee mugs…
I admit I've ordered something with my word on it. I've even created my own little pictures. They are reminders because I forget easily. The more reminders, the better. I made this little image to place on my desk because in 2014, I really needed to focus.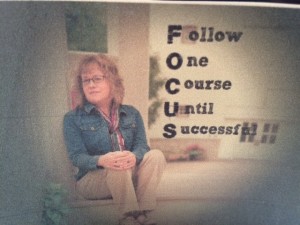 There have been so many distractions keeping me from making as much progress on my writing as I should. Some of them I created. Others have been beyond my control, but overall I just needed to focus and plow through.
How Is That Working?
Slowly. I am so happy God is patient with me. I would like to report that these words have changed me in spectacular ways, but the truth is, I have a long way to go. It's a journey, and I have to keep reminding myself of that. I should not expect to have arrived. Because of that I'm a little reluctant to let my words go at the end of the year. I haven't learned everything yet! That is why I've been keeping some of them together like this:
One thing I have learned from concentrating on one word for an entire year is that there is always something I have indeed learned. Maybe not perfectly, but it's progress I might have missed had I not chosen to do this.
My 2015 Word
This came to me in church one Sunday, and then I heard the word somewhere right after. And I felt it in my heart.
SHARE
I realize that this word could have several meanings (as is the case with a lot of words) and I am not entirely sure what it means for me. My first thought had to do with mentoring since I've been seeing some changes in the way I've mentored in the past. My next thought was that I need to give away some of my writing, which feels just a bit painful right now because my writing income is virtually nil. Another thought is that if I don't FOCUS in 2014 and get the current novel I'm working on finished, I won't be able to SHARE in 2015.
But there are other things it could mean, such as speaking up, sharing my heart, my passion, the Gospel. I don't know where it will lead in 2015, but I am sure God has a reason for asking me to focus on this word.
Have you chosen a word to focus on for a year? Are you considering doing so?