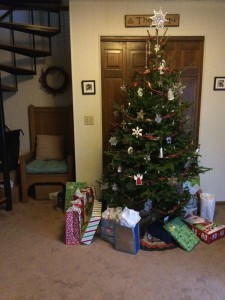 Ornaments With Meaning
This is my Christmas tree this year. As with almost every year in my married life, I decorated it myself. Yes, it's in front of a closet. It's that kind of Christmas because our reno isn't finished yet. But I promise you, next Christmas will look different. I did not put all my ornaments on this year. I left some of the most fragile in the box this year. I'll look forward to seeing them next Christmas. But I still have several with special meanings. I'll bet you do too. I'd thought I'd share the meaning behind a few of my "mini monuments."
One of the Oldest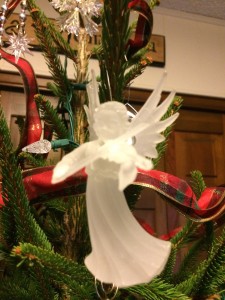 This is one of the first ornaments Tom and I picked out together. I don't think it was from our first Christmas, but definitely from early on. Angels are such an important part of the Christmas story that I have many of them on my tree. I love that this one is playing a violin. For years I thought it was breakable and always hung it near the top, out of the reach of little hands and pets. Then a few years ago I realized it's plastic. It could still break, but it's not as fragile as I thought. I still hang it near the top, however.
From My Home Church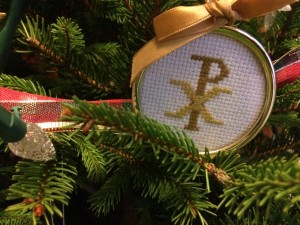 This one is fairly old too. It's the Chi-Rho symbol, The Greek letters for Christ (the first two letters of the name.) Sulphur Grove traditionally had a tree with these symbols. They might still. One year we were encouraged to include them on our own trees and I bought this one at the church Christmas bazaar. I hang it to remind myself to keep Christ in Christmas.
From Christmases Past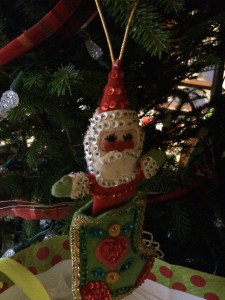 This is certainly the oldest ornament I have. I snagged it from my mom a few years ago. It's one of my favorites from when I was growing up. I loved decorating the tree when I was a kid. It's something that did not get passed down to my boys. I guess some men are like that. Decorations? Whatever! But for me this one brings such happy memories.
Remembering Happy Times
There are lots of ornaments like this. Maybe for you too. This one is from a special vacation I took a couple of years ago with my sister Bev and my mom. We went into a Christmas shop and that's where I got this one. While we saw lots of moose crossing signs in Vermont, we did not see any moose. But we are very familiar with them from the time we lived in Alaska. We loved Vermont.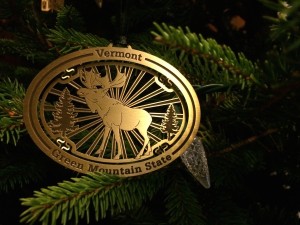 Ornaments That Remind Me to Pray
Our previous pastor always held an event where you brought an ornament with your family name written on it and hung it on a tree in the sanctuary. At the end of a service you went to the tree and picked a different ornament. Then you prayed for that family throughout the Christmas season. I have more than one of these but this one is for a couple that still need prayer because of the wife's health issues.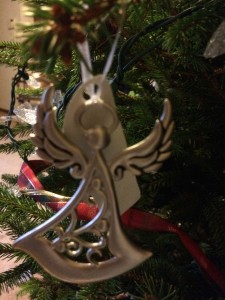 My Giving Ornament
Some of my readers have identical ornaments because I've given out a few of these over the last couple of years in contests and drawings. I will always think of them when I look at this on my tree. I believe I have one left to giveaway next year.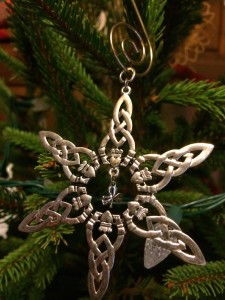 Remembering My Publisher
This one was included one year in a gift I received from my publisher. I am so grateful Tyndale House published Grace's Pictures and Annie's Stories, and this reminds me of the wonderful people I was privileged to work with there.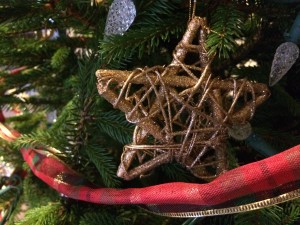 From a Facebook Friend
Isn't it amazing how you can make friends through Facebook? Kind of like pen pals. This ornament reminds me not only of the person who sent it to me, Cindy Z. from England, but also of all the wonderful people I've met. Cindy wanted to send me something authentic from her country. Isn't this jester adorable?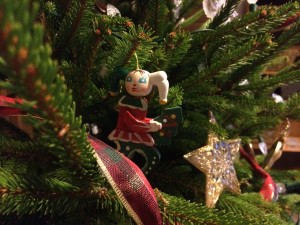 My Celtic Heritage
This one was a gift from my son Kyle and his wife Kelsey. It reminds me of our Celtic heritage, and also how thoughtful they are!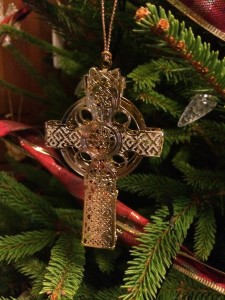 From Ireland
This one I picked up on our last trip to Ireland. I kinda went nuts at the Belleek store, but you couldn't buy these here for the price I paid. I just love this Santa and will always think about our tour of the Belleek Factory when I get it out to hang on the tree. Yes, this one is breakable, so we're being careful. It's the same on both sides so it doesn't matter if it gets turned around. Isn't that genius?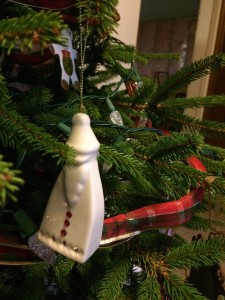 Go Reds!
I mean, my favorite team has the right color for Christmas, so why not?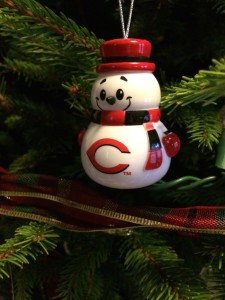 These are just a few of my favorites. I have more so maybe I'll do this again next year. Care to share one of your favorites with me? Post a picture or tell me about it in the comments. Merry Christmas!