Do you read past your bedtime?
Maybe you want people to know that the dark circles under your eyes are not from drinking late the pub. Maybe you just want to celebrate the fact that reading is your pastime. Perhaps you want to invite other readers like yourself to speak up and introduce themselves.
Maybe you just want to support a cause.
I think there could be lots of reasons you need one of these shirts, and time is running out!
Be Proud
Some people wear shirts bearing the logo of these favorite sports teams. Some people wear flags on their shirts. Some wear proudly their favorite clothing brand. So, why not readers?
Wear Quality
I've ordered these shirts before. They are well made, one of my favorites to pull out of my closet. So there is no need to worry about that. They are available in blue or green, children sizes through XXXXL. T-shirt or sweatshirt hoodie.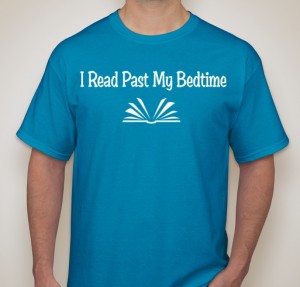 Tell a Friend About These
If you'll let people know about these shirts, you'll be doing me a favor. Below are two ways:
If you #read past your bedtime, you need this shirt. Hurry before time runs out to get one! http://www.booster.com/ellisislandseries
Click To Tweet
Share this link: http://www.booster.com/ellisislandseries
Thank you!