How It Began
First, let me say the people at the Dayton Celtic Festival were very good to me. They stopped by to talk about Ireland and genealogy, and which books of mine they've read. They bought a lot of books, and it was my privilege to be able to sign them for folks. They were also good at making St. Brigid's crosses! Excellent students. 🙂 Heather has worked hard to grow the Cultural Area, and she is a delight.
But the week brought some tough news for no less than five people in various walks of my life: cousins, prayer partners, my son's National Guard unit (there was a fatal car accident), and one of the festival authors who normally would have been at the Dublin Festival. Really, really tough stuff.
So when I got to the Dublin Festival, I admit I was not in the best of moods. And then our tent looked backwards to us. We were convinced no one would find us this year, and Friday sales were slim.
But, there are some fantastic authors in that tent. Add in some Irish humor from a couple of the new authors, and things got better. As a whole the festival was very good for me, and I hear it was for the other authors as well. The fantastic weather on Saturday brought a ton of people to the festival and at times our tent filled up with book browsers.
I just found out what happens when a writer leaves her computer for a weekend. #connecting #writinginspiration
Click To Tweet
The Readers Show Up
Oh, my goodness. I talked to so many interesting people. I can't begin to describe all the conversations I had, so I'll just share a few.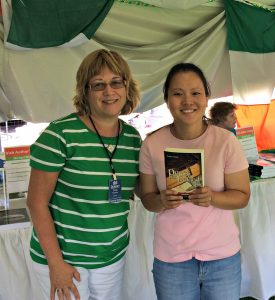 This young woman, Rebecca, has become a big fan. She's read the entire Ellis Island Series, and is currently reading Brigid of Ireland. She picked up Pages of Ireland at the festival. She makes me think I better get a move on with the next novel! She's so faithful to email me, read my newsletter, and show up at my appearances. It's for readers like Rebecca that I've written these stories.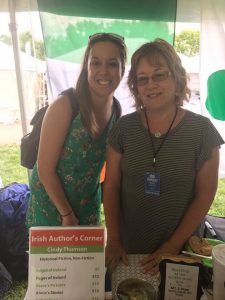 This is Jessica Krcal. She stopped by because her boss sent her. You see her boss, Lexi, is my friend from my youth group days. And she doesn't live in Ohio. Neither does Jessica. They are in Virginia. Jessica was visiting family and planned to come to the festival. When Lexi heard that, she said go see my friend Cindy. So she got this photo to show her boss she followed up. 🙂
And I met a young woman named Autumn, who had bought a book last year. I had a nice chat with her and her friend. Turns out Autumn works for a book printer and they do work for Tyndale, one of my publishers!
Another woman popped in to tell me she bought Brigid of Ireland the weekend before in Dayton. She said she enjoyed it and read it in two days!
A few readers who get my newsletter and/or follow me on Facebook stopped by to tell me that. A young woman who was named after St. Brigid decided she must get Brigid of Ireland. I talked to several people about places in Ireland and about their genealogy. I signed a copy of Brigid for a young girl whose mother a few months ago gave birth prematurely. Her dad told us a bit of the struggle that family is having but things are improving and they are coping. Several people told us how very much they love books!
And then these folks stopped by.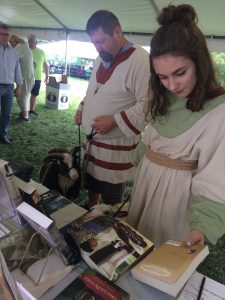 Can you see what is on the leash?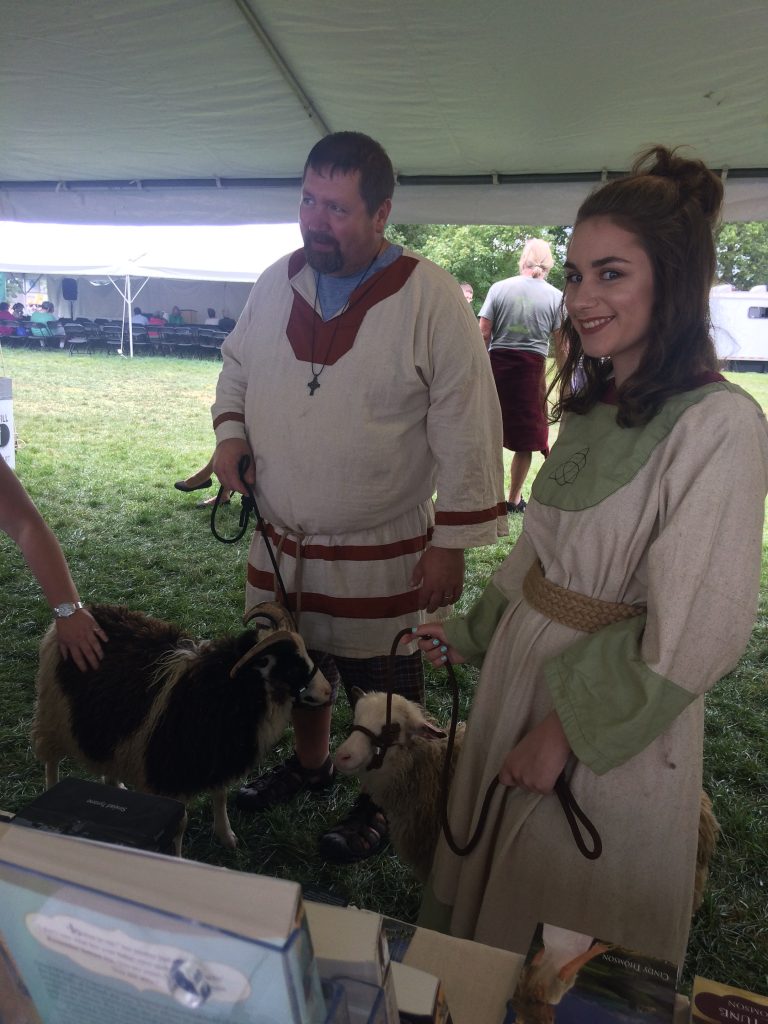 Yes, I Did Talk
I had a talk on Saturday titled, Turning Novels Into Novels. I read excerpts from my books. There was a decent size audience and they were attentive, which is always nice. 🙂 On Sunday the group was smaller, but still attentive and even asked some good questions. That topic was The Ancient Books of Ireland, a bit of the research I enjoyed doing that didn't make it into my novels.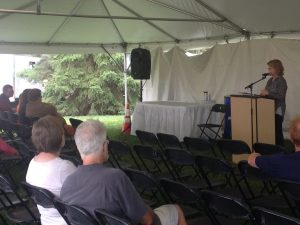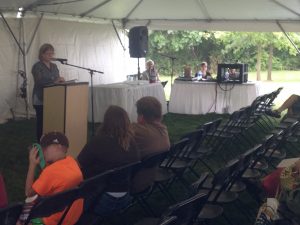 So, Pretty Good!
Even with the bad hair days I had.
I also enjoyed catching up with some vendors I know. I met a new lady too. She makes embroidered designs copied from grave markers in Ireland, Scotland, and Wales, and frames them. She told me how she got this inspiration, and how she kept dreaming about these designs until she landed on the idea to make them into wall hangings and then the dreams stopped. She doesn't want them on clothing. She wants to respect the original intent of the families who erected these markers. She lives here in Ohio.
And Tom and I enjoyed the festival finale before we went home and fell exhausted into our bed. I have since received some emails and Facebook messages from readers, and fun chatter with the authors and Barb, our author's corner coordinator who is so good to us. Oh, and one more thing I want to mention: The Book Loft!  Julie, Sean, Josh, and Ross, are such nice people not to mention knowledgable about all kinds of books. If you are in Columbus don't miss visiting the unique book shop, The Book Loft.
Because I Don't Get Out Much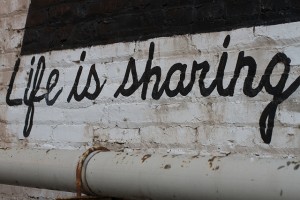 Writing is by necessity a solitary endeavor. So it's great to get out and meet the people who will read your books. And connect with friends and family who came to the festival. I've heard it said that to write a novel people will want to read, you have to have experiences, which means you can't stay behind your desk all the time! This time of the summer and fall is my time to do that. Make sure you get my newsletter to find out what else is in store.
Been to any good festivals lately? Tell me about it in the comments.