FYI: This post was written by Cindy, not Tom.
Here's an Easy-Peasy Way to Help Me!
See this book?
It's been out for many years, and yet in a Facebook group for readers of Christian fiction, someone asked for recommendations of books set 5th-6th century and no one recommended mine. There is a virtual ocean of books out there, so it's hard to get noticed. I've been thinking about that, and I know of a way Brigid could get noticed by a ton of eager readers! (And thus, the two books that follow!) BookBub is a website that promotes free and low cost (.99 to 1.99) ebooks. I would have to apply for a promotion and be accepted, but I can't just yet. I need at least 50 Amazon reviews. First, I need to convince Amazon to combine these: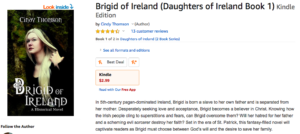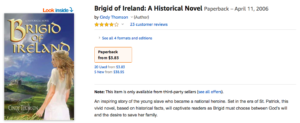 If I can get them to combine them, that's 36, so you can see, Brigid needs more Amazon reviews.Choose however many stars you'd like, write something brief or long, your choice. Even negative reviews count!  If you can write one, do so on the new cover: https://www.amazon.com/gp/product/B00PL4GNA6/ref=dbs_a_def_rwt_bibl_vppi_i1
If you wrote one on the old cover, thank you!
And a Bonus!
If you read my previous post and/or received my Jan. newsletter, you know newsletter subscribers (who actually open the newsletter email) are entered to win the prize I described. You can earn an additional entry if you leave a review on Brigid of Ireland between Jan. 3 and Jan. 30. (Prize will be awarded Jan. 31)
ST. Brigid's Day
St. Brigid's Day is coming up Feb. 1. What a great way to observe the day by leaving a review or reading the book if you haven't already. Or perhaps gift a copy to a friend!
Easy, Right?
What could be easier? If you'd like to help me out (and many of you have said you would!) just leave an Amazon review. Already done that? Tell your friends by creating a post on Facebook or Twitter or wherever you hang out online.