Dayton Celtic Festival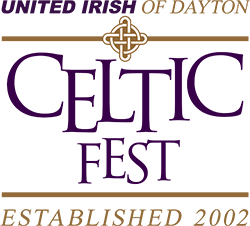 This festival is held every year on the last weekend of July. The cultural area is only open Saturday and Sunday, although that could change in the future because it's influenced by whether or not the Dayton Dragon baseball team has a game or not. The cultural area is in the concourse in front of the stadium.
I did this festival many years ago when it was in another location. When the festival expanded to use Riverscape, Heather Schieman, the Cultural Area Director, contacted me. For a few years, I was the only author. Last year I was joined by Terrence O'Leary and this year David McDonnell joined us. It was HOT! The crowd seemed slim, especially on Sunday. But I sold a decent number of books and met a lot of cool people. I love going because it's the area my husband and I grew up in and we usually have old friends stop by.
I spoke twice. Once on tips to find your Celtic ancestors and once on the topic of my new book Celtic Song. Small, but enthusiastic audiences!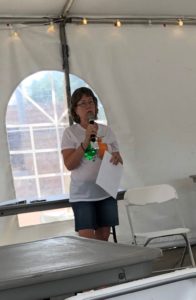 And this year I also got to visit with the Irish wolfhounds!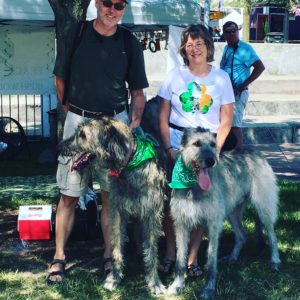 My biggest seller at this festival: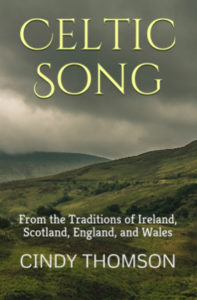 And a close second: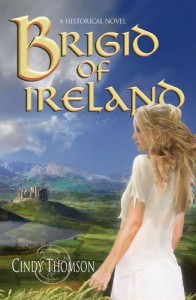 Dublin Irish Festival

Held the first weekend in August, this is one of the largest Irish festivals in the world. Here authors have their own tent: The Authors' Corner.
We are cared for by The Book Loft of German Village staff headed by the awesome Julie Burgess. This year 17 authors were present. Many of us have been together for several years now, sometimes meeting up at multiple festivals, resulting in friendships.
One year there were four Irish authors from the north of Ireland, and since that time it's become one great party. Last year J.P. Sexton had to cancel at the last minute because of an injury that rendered him physically unable to come. This year he was also physically unable to attend but this time it was because he was turned away from boarding a plane due to a VISA issue or maybe it was a passport issue. He was in Ireland and was trying to get back. It's all very mysterious, however, because he is a natural born US citizen, although he spent most of his childhood in Donegal. (A story for another time.) The year he was here, he taunted author Greg McVicker for leaving his Schmidt's Cream Puff (forever after referred to in the Authors' Corner as the Dublin Cream Bun) unattended while he visited with potential readers. Below you see JP taking advantage of that. Was this photo staged? I'll never tell!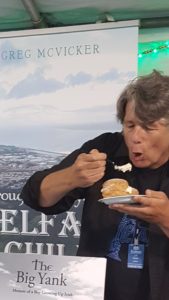 Well, JP's situation this year would not go unnoticed. Authors Jim McVeigh and Greg McVicker (two of the Irish lads) penned an ode to JP and got some of the other authors to join in recording the song. I wasn't there because they did this at the hotel where they all stayed and I'm local and don't stay there. I knew you'd ask! (Check out Greg's Facebook Page here: https://www.facebook.com/ThroughtheEyesofaBelfastChild/) And Jim's Facebook Page here: https://www.facebook.com/fartymcfee/
There is some mild language in the song, but Americans might not notice because it's Greg's Belfast-talk. But you've been warned in case that matters to you. It is hilarious, for sure.
Creative people, aye?
Back to the festival.
There was a good crowd this year. The weather was fantastic. Not as many as I would have thought found their way to the Authors' Corner. I sold a couple more books in Dayton than I did here, and this was Friday-Sunday. Positive thoughts for next year, though. And several people did go home with signed copies. No complaints about that!
Best seller in Dublin this year: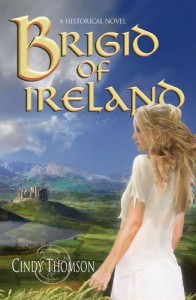 But only one more than second place: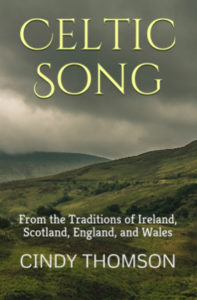 At this festival I spoke to a bit larger group about Celtic Women. They were a fun crowd, despite it being nearly the end of the festival on Sunday before my assigned time came around. This festival draws good crowds for all the talks by authors, storytellers, musicians, and historians.
A Deal for You!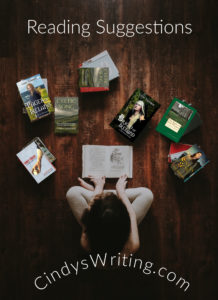 Not able to attend this year? Until the end of the month, you can get any (or all) of my books shipped free in the US. Well, one exception. I sold so many Celtic Song titles that I don't have those. But I have all the rest. And if you're near the Book Loft, you can pick up signed copies there. They have two copies of Celtic Song.
Here's the run down:
Brigid of Ireland: $5 (very limited number left)
Pages of ireland: $12
Enya's Son: $16 (very limited number left)
If you'd like to take advantage of this offer, use the contact form below. Thanks!
[contact-form][contact-field label="Name" type="name" required="true" /][contact-field label="Email" type="email" required="true" /][contact-field label="Website" type="url" /][contact-field label="Message" type="textarea" /][/contact-form]