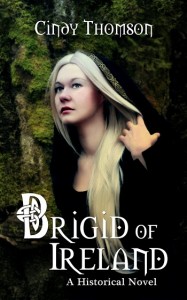 I love giving away my books but unfortunately, I can't afford to give them all way. Still, once in a while I like to run a giveaway on my blog, and today is one of those times!
About the book:
In 5th-century pagan-dominated Ireland, Brigid is born a slave to her own father and is separated from her mother. Desperately seeking love and acceptance, Brigid becomes a believer in Christ. Knowing how the Irish people cling to superstitions and fears, can Brigid overcome them? Will her hatred for her father and a scheming evil sorcerer destroy her faith? Set in the era of St. Patrick, this fantasy-filled novel will captivate readers as Brigid must choose between God's will and the desire to save her family.
Brigid of Ireland ebook
If you have an ebook reader, you might like to give this book a try. Even if you don't, you can download the Kindle app for free and read on your computer.
If you like Irish history, ancient historical fiction, stories of adventure and struggles of faith, saints and druids, kings and monks, you might like this book.
The Giveaway
All you have to do is enter through Rafflecopter below. The more entries you choose, the more chances you'll have to win. Thanks for participating!
a Rafflecopter giveaway