Research
People are interested in St. Brigid: who she was, what she did…
Not long ago I got a call from a BBC1 researcher. She wanted to ask about St. Brigid because I'd written a book on her. The show she was researching for was exploring offering something a little different for St. Patrick's Day. Some might find it odd that a "researcher" was consulting a fiction writer, but writing historical fiction requires research. For this book it was not only historical details about what life was like in the 5th century, but also legends and the beliefs of people today. We had a great talk. She asked me twice if I had plans to come to the UK. Oh, I wish. Hopefully in the future!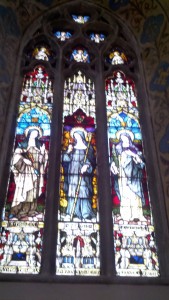 Lingering Interest
It's not 100%, but more often than not when I make appearances, I sell more copies of Brigid of Ireland than my other titles. I've heard people comment about how hard it is to find anything on  Ireland's female patron saint. There are schools and churches named for her, but there remains a mystique surrounding Brigid. I know some, especially nuns, are interested in the story that Brigid was consecrated as a bishop (something the church would not allow today) Other than that, I'm not sure why people are so intrigued (I know why I am. I'll get to that in a moment.) If you have ideas, please leave a comment.
Fact or Fiction/Faith or Folly?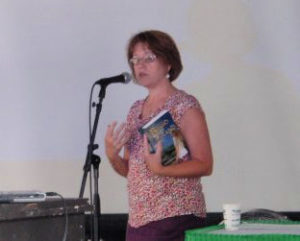 I'll always remember a discussion that ensued at a talk I gave many years ago at the Milwaukee Irish Festival. Was Brigid real and a saint or was she really a goddess and the church made up the saint to appease the pagans and convince them to accept the faith? It was not a discussion I was trying to have, but rather one that came up in audience questions. The stage manager was insisting that she was a goddess and never real. A few Catholic women in the audience were saying that she IS real because they pray to her every night. (And the Protestants were aghast at that!) I mentioned this to the BBC researcher and told her that Americans in particular seem to want proof for everything, And that's missing the point. What do the stories tell us? What is there in them that we need desperately to apply to our own lives? (And for the record, Brigid may have real and just named after the popular goddess. And for hundreds of years the legends about both saint and goddess got intertwined. That's my feeling, anyway.)
Why She Mattered to Me
A question I often get is why did I decide to write a story about Brigid. My own father asked me that question. I don't know if my answer satisfied him or if it satisfies anyone else either, but here it is.
Many years ago I was at the Dublin (Ohio) Irish Festival in the cultural area. There was a table set up with information on St. Brigid. The stories intrigued me but I had to leave before I learned very much. So I went home and starting reading all I could find on St. Brigid. Then I decided to write a book of short stories (fiction). Turns out that was a lame idea, and someone suggested I write a novel instead. I did, as you know.
But, as the BBC researcher asked me, did Brigid perhaps intrigue me because her story was so different than what I learned about in the church I was raised in? I think so. Yes, there are women in the Bible that are worthy of study, but Brigid was a leader in the church in her day. She performed miracles. She was incredibly generous. She lived out the Great Commission, and had a huge influence. I wanted to know more about what that looked like, and also what Celtic Christianity was about. (Hint: it's not about paganism: https://celticvoices.blogspot.com/2007/11/does-celtic-pagan-evil.html )
Here is a wonderful synopsis that explains the significance of Brigid's legacy from Solas Bhride http://solasbhride.ie/the-story-of-brigid/
Remember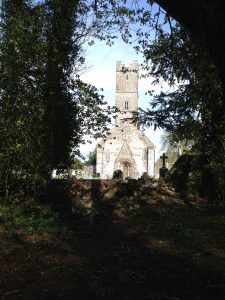 I think that's our calling. Learn from the past, and Brigid is a good example to follow. What do you think?