Please scroll down for purchase links.
Book One, Daughters of Ireland Series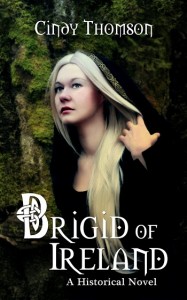 In 5th-century pagan-dominated Ireland, Brigid is born a slave to her own father and is separated from her mother. Desperately seeking love and acceptance, Brigid becomes a believer in Christ. Knowing how the Irish people cling to superstitions and fears, can Brigid overcome them? Will her hatred for her father and a scheming evil sorcerer destroy her faith?
Set in the era of St. Patrick, this fantasy-filled novel will captivate readers as Brigid must choose between God's will and the desire to save her family.
It seems an almost impossible task for writers not born and reared in Ireland to realistically convey the Irish idiom of the English language, but Cindy Thomson has been more successful than most. 
–Irish Emigrant
Thomson's Brigid convincingly embellishes the few known facts about this 5th century national heroine into a compelling Celtic Christian tale…—Dr. Mark Stibbe, vicar of St. Andrews, Chorleywood, England, and author of the bestselling book, Prophetic Evangelism. (Quoted in the August 6, 2006 issue of Christianity Magazine.)
The strength of the novel lies in the richly-woven narrative and sensitive evocation of the faiths of Ireland. I certainly feel that Cindy Thompson is an emerging talent and would read her next book, projected also to be set in ancient Ireland. Recommended for both adults and young adults. (Susan Cook Historical Novels Review 2007-02-01)
It's hard to believe this is a first novel. Cindy Thomson did a fabulous job of researching her topic, capturing even small details about ancient Ireland to bring this story to life. The book is so well written you feel transported to another time and place–and it's easy to get lost in Brigid's story. The unexpected ending is both beautiful and unforgettable. From start to finish, this book is a wonderful read.~Christy Award-winning novelist Ann Tatlock
Please note that affiliate links are included on this site. When you shop using these links it earns me a little money and doesn't cost you more. Click on the book image or shop on the other sites below.