A True Story
This weekend I uncovered such a touching story and I mentioned I'd found something on Facebook. Many of you are wondering what it was. So now, I'll tell you. It's a story from the Thomson family about one of my husband's distant cousins.
First, How We Found It
It's true, I got Tom hooked on family research. His long-ago cousins helped, though. One, Clement Rutter Thomson, recorded some family history and put it in a book. Over 200 hand written pages recorded in 1888. And he found it in the State of Ohio Library right here in Ohio. I mean, who has that kind of luck! (I  might be a little jealous.)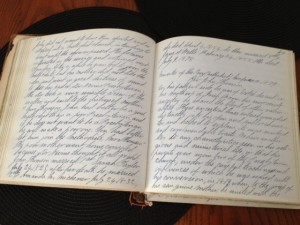 However, most of it is not about his direct line. It's still a fascinating history, though. He's been trying to connect some dots. When his grandpa was living he wrote down some family history that he'd been told. It goes back to the 16th century in Scotland, but we haven't so far been able to verify it. In Grandpa's notes, he said his uncle had found this Scottish information in the library and gave his research to his eldest nephew. So, we thought we'd try to trace this nephew who by now had to be deceased, but maybe he had kids and grandkids and they had it. We discovered he only had one son, who was named after him, both them being Burdette Thomson. Fortunately not a common first name. And then we discovered that Burdette Jr. had also passed away leaving no children. He is buried in Ohio, but had died in Florida in 2003. His wife, Christa, died in 1963.
Christa Made the Newspaper
Someone on Ancestry typed out the newspaper story that appeared in April 1960. I discovered that several papers across the country carried it. It explained why there were no children. Here it is:
DAYTON, Ohio (AP) – Christa Thomson holds her breath each time she strokes a canvas with her brush. She paints with her teeth.

Paralyzed from the shoulders down, the pretty 34-year-old German refugee has solved the problem of enforced idleness.

Four years ago she and her fiance, Burdette Thomson Jr., went swimming at nearby Indian Lake. Christa dived into shallow water and broke her neck.
Doctors said even if the girl lived she probably would never be able to sit up. Despite the grim outlook, Christa and Burdette went ahead with their plans for marriage.

Today young Mrs. Burdette Thomson gets around her home in a motorized wheelchair. Although she cannot dress herself or do houswork, she has found that she can paint by holding the brush in her teeth. Says she:

"My desire to paint began when I looked at pictures of the old home in Germany and the mountains where I used to ski. In my hospital room I thought of these things. The walls of my room suddenly became a movie screen and I could project my whole life in detail on the ceiling.

"I wanted very much to create something. Then, a year ago, I began detail painting by number portraits. Gradually I started adding a flourish of my own, or changing a color."

Now Christa is painting solo, with numbers for guides. There are difficulties, but she is overcoming them. Says she:

"I see beautiful pictures in my mind. I want to translate them on canvas – perhaps someday sell them."

Findlay Republican-Courier
April 18, 1960.
The Rest of the Story
Despite this devastating injury, they went through with the wedding! That alone is touchingly romantic. But we also know Burdette never remarried after she died. We found him in a high school yearbook. He was handsome and played every sport available. I can just imagine them that fateful day enjoying the summer at Indian Lake (a place we've been to.)
And then I found this picture that must have accompanied the article.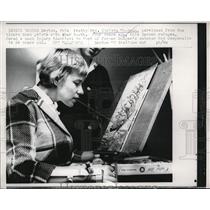 I can't make it any larger, but perhaps you can zoom in. I believe that must be Burdette smiling down on her. He must have loved her very much. After all, he made sure he'd return to Ohio to buried next to her 40 years later.
Christa escaped Germany after WWII, quite possibly all alone but with hope of making a better life in America. We don't know yet how they met or what she had been doing before the accident, but that day must have felt like the end of her dreams. However, despite living as a paraplegic, Christa found a way to express the beauty she still saw in the world through her painting. I would love to find some of them someday.
We still don't know if somehow the Thomson family history research survived by being kept by another family member or donated to a library. We'll keep looking. But finding this unexpected love story while looking for something else shows how important uncovering the stories of our ancestors is, so we can let them live again to inspire future generations.
SaveSave
SaveSave